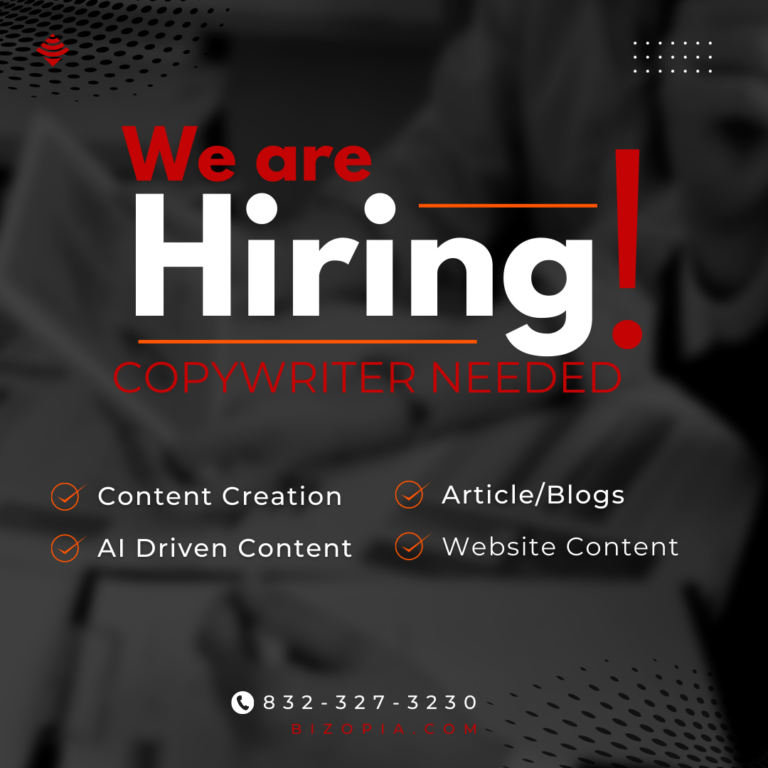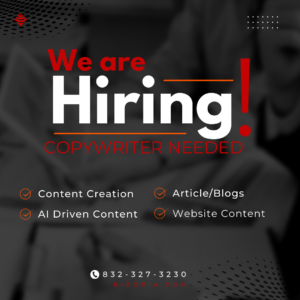 Bizopia is a fast-growing digital marketing agency focused on growth-driven marketing programs for companies, providing them with digital marketing solutions and services. We are seeking a Copywriter and Content Creator who is project-driven and results-oriented with special attention to detail to join our team at our Katy office.
In this role, you will be responsible for supporting the team by writing compelling copy for our client websites and blogs and creating unique content for social media posts.
We are looking for a savvy content writer to join our team! As the copywriter, you will manage content strategies for a wide variety of clients in a multitude of industries. The perfect candidate will have excellent research skills so they can quickly become knowledgeable in any field to properly manage written content for digital platforms for our clients, including web pages, articles, blogs, and marketing emails. They will also be adept at time management to meet necessary deadlines and goals and offer valuable insight to help our team grow and assist our clients in boosting visibility online. We're looking for a professional with a go-getter attitude and a love for creating content that people want to read and engage with!
Responsibilities:
Plan content marketing strategies for businesses in a variety of industries
Choose content topics and keywords based on client strategies
Generate content for a variety of clients using advanced AI tools
Revise content for accuracy, tone, grammar, and SEO best practices
Publish content on client websites on a regular basis
Analyze results from published content to gain insights for future improvement
Consult on company-wide content strategies across clients and platforms
Create and manage client content calendars
Transition smoothly between technical, informational, and creative writing
Qualifications
Bachelor's Degree in Communications, English, Writing, Journalism, or a related field
Superior written communication skills
Attention to detail and the ability to work independently
Strong time management skills
Ability to hold yourself accountable and self-manage
To Apply: Please include a cover letter with your resume and describe why you would be a great candidate for this position. Also include a writing sample no longer than 300 words (e.g., blog post, article). Share with: [email protected]
Job Type: Full-Time
Experience: Minimum of one year of copywriting or equivalent internship experience
Education: Bachelor's Degree (Required)
Location: Katy, TX