November 29, 2022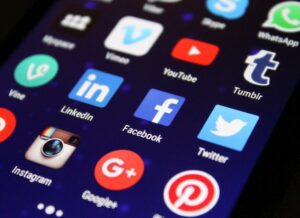 In Texas, Houston social media marketing companies are working tirelessly to market your industrial business online. If you need marketing assistance for your business, contact Bizopia today for a free marketing and website analysis.
A few years ago, social media was mainly for sharing videos, photos, and light moments with friends and loved ones. Today, the models have changed. Businesses are marketing their services and building customer relationships through social media platforms. If you own or run an industrial business, you need a Houston social media marketing agency to grow your traffic. Our experienced team at Bizopia offers industrial social media marketing for your business.
In this article, we will discuss the benefits of using social media marketing and the key roles it plays in industrial businesses.
What is Houston Social Media Marketing?
Social media are applications and websites that enable people from different places to create and share content online. When marketing is involved, it changes in favor of businesses. With social media marketing, you use platforms like Facebook, Twitter, and Instagram to market your products or services, grow traffic, and create brand awareness.
Social media users are growing every day. In 2022 alone, users have hit 4.5 billion. The numbers are expected to grow to a staggering 5.85 billion users by 2027. Lately, social media has become an effective digital marketing tool.
In a report published in 2021, 37.9 % of consumers purchased a product or service online after viewing an advertisement on social media. Generally, this indicates how social media marketing effectively generates leads online.
Why is Houston Social Media Marketing Important for Industrial Businesses?
Numerous companies use the social media market to generate leads and make informed decisions. By 2021, social media marketing was valued at $181.2 billion. The market value is expected to shoot to $358 billion by 2026. 
If you're looking to get market share, then a Houston social media marketing company like Bizopia will assist you in growing traffic for your industrial business. 
Here's why social media marketing is important for your industrial business:
Brand Awareness
Brand awareness is every company's marketing goal. Previously, you had to pay media houses heavy marketing fees to advertise your brand. Social media marketing has changed the dynamics. You only need an online presence to showcase your brand. 
Social media marketing will make your brand more visible to an online audience. It's easy and fast. If your industrial business has a solid online presence, the chances of generating leads are higher compared to a competitor without any social media presence.
Additionally, statistics from Sprout Social indicate that more than 90% of consumers are more likely to buy from brands they follow on social media.
Customer Service
Social media marketing is crucial in building a memorable customer experience. You can quickly build a solid loyal customer base by:
Responding to issues affecting your clients quickly and solving them

Taking public conversations to a private chat, especially for frustrated customers. It also ensures your brand reputation is not tarnished due to negative comments.

Creating personalized experiences for every client 
Website Traffic
On your social platforms, followers who love your content will share it with their colleagues. With increased post engagement, your audience will visit your industrial business website to learn more about your products and services.
The more people visit your website, the more traffic increases. The high traffic has a high potential of generating more sales for your business.
Reputation Management
Social media marketing is essential in fostering trust in your brand. Your target audience will most likely trust their peers who have had an experience using your product or service. In social media, opinions and experiences spread like wildfire in the online community.
For instance, a positive post about your brand can generate overwhelming leads and give your industrial business an edge over other competitors. Consequently, a negative post or comment can ruin your brand reputation if it goes viral.
To maintain a brand reputation, you'll have to curb the negative posts and magnify the positive ones. To build a positive reputation, follow the steps below:
Check your current reputation. How does the audience perceive your business? Are they happy or frustrated? The current reputation will help you assess the areas that need improvements.

Choose the right platform. Your focus shouldn't be on every social media platform. The online audience on Instagram is different from the one on Twitter. If your brand focuses more on photos and videos, you'll want to pick Instagram because Twitter focuses more on polls and text tweets.

Set and track your goals to check whether the reputation management efforts are generating any positive leads.

Maintain consistency in social media platforms. Post relevant content that aligns with your audience and goals.
How Does Houston Social Media Marketing Work for Industrial Companies?
You're probably curious about how a Houston social media marketing company can utilize social media to generate traffic for your industrial business. Here are some social media types used to help your business grow:
Content creation and blogging

Facebook

Twitter

LinkedIn

Instagram 
With the large audiences on platforms like Twitter, LinkedIn, Instagram, and Facebook, a marketing agency will ensure your pages are well optimized for your audience. Additionally, we ensure there's consistency by posting regularly to keep your audience engaged.
Why Hire a Houston Digital Marketing Agency for Your Social Media Marketing
Building an online audience is time-consuming and complex. It looks simple, but there are businesses with social media presence that generate few or no leads. With a Houston digital marketing agency, you'll be dealing with experts in the field of social media marketing.
A digital marketing agency will use its tools and experience to ensure your online presence grows and generates possible leads that increase your sales.
Houston Social Media Marketing from Bizopia
Look no further if you need a Houston digital marketing agency to help you grow traffic for your industrial business. At Bizopia, we are a Houston based digital marketing company offering a wide range of services, including SEO, Houston social media optimization, PPC management, and website design.
We have 20 years of perfected experience and skills to drive website traffic, promote brand awareness, and generate leads for your industrial business through social media engagements, search engine rankings, and paid advertising.
Our rock star team is here to ensure the success of your industrial business through social media marketing. Get a digital marketing and free website evaluation from our experts today.