December 5, 2022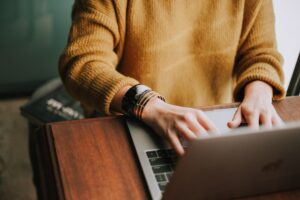 How do you improve your brand image, increase website traffic and expand your customer reach in this digital world? Well, you just need to establish a solid online presence. But it's not that easy, and neither is it hard if you have the right Houston SEO strategies in place.
The first step is to have a well-designed website—the best way to do this is to hire a professional digital marketing agency in Houston like Bizopia. Then continuously update and optimize your site for search, including through adding fresh content regularly. Our team takes care of all of this for you, and to get started we'll even provide you with a free, no obligation digital marketing analysis for your business.
But between blogs and press releases, which one is more valuable for search engine optimization purposes? This post compares blogs to press releases for SEO. 
What is Houston SEO?
SEO stands for search engine optimization—a set of practices designed to improve the positioning and appearance of web pages in organic search results. Simply put, SEO means improving your site for visibility so people can easily find your business, products or services on search engines like Google. 
Google is undoubtedly the most popular search engine, with over 80% of the search market share. Therefore it's a viable option when targeting organic and paid searches. 
The two core elements of Houston SEO are:
On-page SEO—involves building content to improve your rankings. It includes writing high-quality content regularly, incorporating relevant keywords into your content and pages, and ensuring your meta titles and tags are well-written and keyword-rich. 

Off-page SEO—this is optimization that happens off your site, like earning backlinks. It involves creating valuable and shareable content like blog posts and press releases and building relationships. 
Why do You Need Houston SEO?
Google handles at least 2 trillion searches yearly. This makes SEO an integral part of digital marketing. Having greater visibility and ranking higher in search results can significantly impact your business's bottom line. 
Here's how SEO can help your business:
Increased Visibility and Rankings
Among the essential roles of SEO is to increase visibility, making it easier for searchers to find you whenever they search for a product or service you offer. And your visibility impacts your ranking.
Prospects are more likely to see you and click through your site if you rank higher on search engine results pages (SERPs). With effective Houston SEO strategies, your site will rank higher and will have more visibility, considering that the top five results in Google get almost 70% of all clicks. 
Web Traffic
One of the primary goals of SEO is to increase web traffic. When you increase your site visibility and ranking, you'll likely attract more visitors, increasing your web traffic.
So if you want more people to find your business online, ensure your SEO strategies rank you among the top five positions on search engine results.
Houston SEO and Press Releases
A press release is an official statement from a company or business, giving information to journalists about a noteworthy event. Businesses use press releases to distribute information about a new product launch, a merger or acquisition, or other notable information. Moreover, organizations send press releases for the following reasons:
To build a reputation

To gain media coverage

To control a particular crisis 
Press releases effectively garner the media's attention, but can they influence your rankings on search?
Press releases have been around since 1906. In the beginning years of SEO, press releases even helped with rankings by creating backlinks to websites. But somewhere along the way, people began abusing press release links, creating a lot of spam.
When Google noticed this, it started penalizing sites with press release links. Consequently, newswire sites added the nofollow attributes to press links.
So while you can still get press release links, they'll not help your SEO that much because they are nofollow. 
In 2018, Google's John Mueller said that they ignore links from press releases because they know companies put the press releases out themselves. Therefore, any links in there are essentially placed by the companies themselves and not usually a good indicator of quality.
He further warned against using press releases to build up links for websites because Google ignores most of them.
But…
Press releases do have their place and are great for public relations, so it's not that you shouldn't put out press releases, it's just that they won't help you rank through Google and other search engines.
Why Blogging is Essential for Houston SEO
Blogging positions your site as a relevant answer to customers' questions, boosting your SEO. If you have blog posts that utilize various on-page SEO tactics, you'll have more (and better) opportunities to rank on Google and other search engines. 
However, with the constant Google algorithm updates, creating and publishing quality and relevant blog content has become tricky. The updates come with different ranking factors that affect SEO and search. 
Some of the ranking factors that affect blog SEO include:
Dwell time

Page speed

Index date

Mobile responsiveness

Recent data
Part of our Houston SEO services includes blog content to improve search rankings, traffic and, ultimately, leads for business websites. 
How Our Blog Efforts Work For Houston Search Engine Optimization
Ultimately, blogs are more valuable to SEO than press releases, so we focus on blogs for Houston search engine optimization purposes.
When doing SEO blogging for your site, we ensure that your content has a relevant topic. We also conduct keyword searches and selection to ensure we target the right keywords to optimize your content and site. 
Our content creation is focused on Houston SEO best practices. We optimize technical SEO, like meta descriptions and alt text, including appropriate graphics for the blog post.
Other SEO services we offer include internal and external linking and regular metrics reviews for KPIs like conversions and page visitors.
Get Solutions For Your Business From Our Houston Internet Marketing Agency
Bizopia is your Houston internet marketing agency for all your digital marketing needs. We have over 20 years of experience and have helped countless businesses increase their online visibility through blogging SEO.
We offer comprehensive services, including website design, social media management, digital content marketing, SEO and PPC management. 
Get a free website and digital marketing analysis from our team today.