August 5, 2021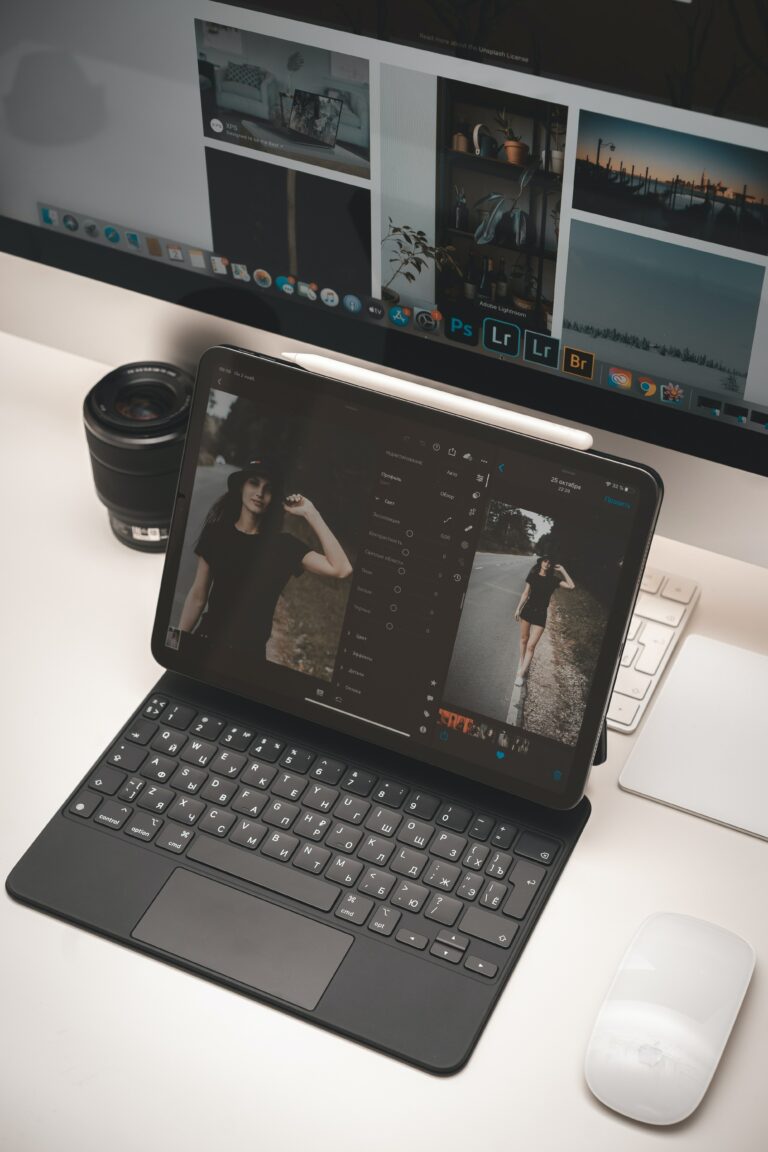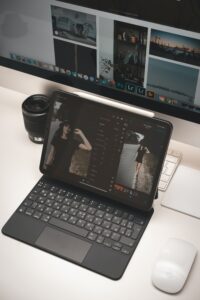 One of the important things your digital marketing agency does when crafting your website and adding content to your site to market your company is image optimization. Optimizing images for the web helps your website get found by customers looking for you!
Why is Image Optimization from my Digital Marketing Agency Important?
You've probably heard that a picture is worth a thousand words. That's a saying for a reason!
Images are vital for making your website look great and also to help you get results on the internet. However, without proper image optimization, your pictures might be worth zero words at all. That's why our digital marketing agency includes image optimization services for your site and content. We're here to help you achieve your goals. 
Let's talk about how images help you get results on the web.
Google Image SEO Helps Drive Traffic from Your Pictures
Our internet marketing agency uses results-driven image SEO practices to help drive people to your website. One important way is through Google image searches. Image search accounts for about 27% of all the searches on Google.
What is Google image search? This is where you look for pictures through Google. Here's a quick exercise you can take: open Google (or your preferred search engine) and type in a search. For example, try searching for "cats." Then, you can click "images" to see only pictures related to your search. If you're searching for cats, it should pull up a bunch of pictures of some very cuddly creatures. These pictures come right from websites just like yours, hoping to be found by relevant searchers. 
More likely than not, you've used image search at some point in your life. But how does this get people to your website? There are a few ways. First, people can visit your website by clicking on the picture. To help this along, Google even includes the title of the page where it found the image. A compelling title can help draw people in and get them to click through to your site. 
Also, depending on what you're searching for, images might even appear before normal search results even if you're not using image search! For example, try searching "red sneakers." You might notice at the top of the page, there are images of red shoes before you see any web pages to match your search.
Images are a vital source of web traffic that many businesses are missing out on. That's where our digital marketing services come into play: we optimize your site's pictures to help you get found through search engines. 
SEO-Friendly Images can Help Your Rankings
However, it's not just through image search that pictures play a role. Images on your website may also help boost your organic ranking. They also help support your content and give it life. With the right optimization tactics from your digital marketing agency, they can also help strengthen your core SEO strategy. 
As a quick review, let's talk about the basics of Houston SEO. SEO, or search engine optimization, is creating websites and content to help you get higher on search rankings. At the very heart of it, it's telling Google who you are so your customers can find you quickly and easily on the web when they need your products or services. 
The great thing about image SEO is that search engine crawlers use everything at their disposal to figure out what your page is about. This includes pictures! A well placed, optimized image next to relevant content can play a role in boosting  your rankings on search engines. Captions and alt text (which we'll discuss a little later) are perfect opportunities to tell search engines what types of searches you should be ranking for. 
Images Improve User Experience and Content
However, image optimization isn't all about playing the SEO game. Pictures are also important for your website visitors! 
Let's do a little comparison. Look at the pictures below and think about what you find more attractive: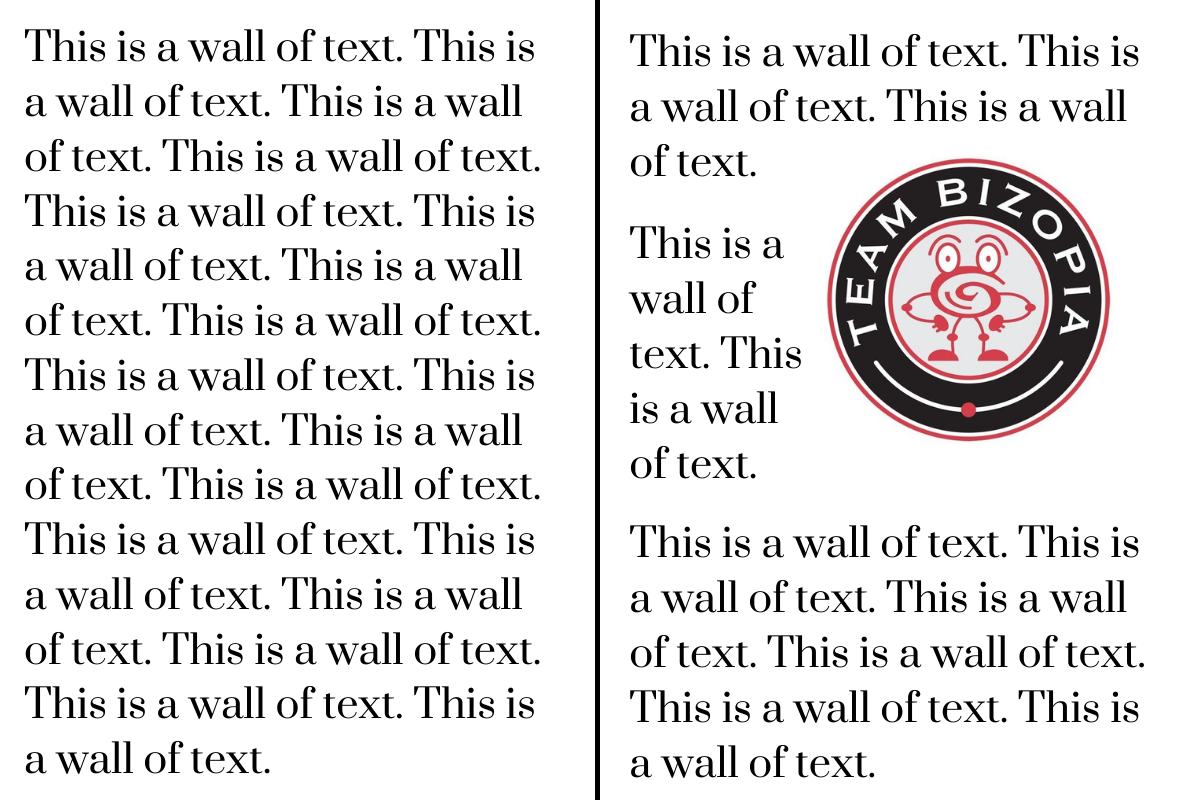 We're going to take a wild guess and say you like the one on the right better. Most people do.
Including images in your website makes it easier on the eyes and easier to read! Walls of text can look daunting and immediately turn your visitors off. However, attractive images go a long way in making your website look attractive!

Google also mentions that images help improve user experience by reinforcing and adding to your written content. For example, our digital marketing agency might include a picture of someone using your product to show people how it solves a problem. We might also include pictures of your team out on service calls to help humanize your company.
Images go a long way for improving user experience once people land on your website. 
How Image SEO from your Digital Marketing Agency Works
So, how do we start SEO-ing pictures on your website? First, we gather good-looking ones! If you have pictures, share them! Otherwise, we look for stock photos to suit your web pages. After that, your digital marketing agency gets to work on a lot of technical things that help optimize your images for the internet. 
Your Digital Marketing Agency Shows Google What Your Pictures Are About for SEO
One of the first things our team does after gathering the perfect images for your website is telling search engines what the pictures are. See, while search engines are making strides, they still can't "see" images the way we can. So, we have to help them out a little. 
To do this, we include what's called alt text. Alt text is embedded right in the code of your website, but is usually invisible to people looking at your site. Search engine crawlers see the alt text to help interpret the image. 
Alt text also gets read by screen readers for website visitors who may be visually-impaired. In addition, if for some reason the image won't load, the alt text will show up for the user to read.
Our digital marketing agency uses results-driven methods to create optimized alt text to help your website perform better on search engine results pages. 
Also, we may use captions to help both search engines and users. Just like alt text and the rest of your content, captions can help search engines figure out what the image is and what it should rank for. 
What's more, when scanning a web page, people are more likely to look at headings, images, and captions to determine what the page is about. Captions are a great opportunity for getting people to read your content and convert.
Keeping Loading Speeds Fast
While images are important, then can quickly make your website more bloated than your belly on Thanksgiving day. They tend to take up a lot of room, which can make your website load slower. 
The problem with this is, about 40% of people will leave a web page if it doesn't load within 3 seconds. 
Also, page loading speeds are a key ranking factor with search engines. 
So, the experts at our internet marketing agency make sure your pictures don't bog down load speeds and make people leave. 
We use many different strategies to do this, most of which are customized to your site. We might have your website prioritize loading all the content and pictures above the fold and load more as people scroll. Also, we might re-size the file without skimping on quality for your pictures. Whatever we need to do to make sure your website is attractive, compelling, and fast, our website experts do it. 
Top Digital Marketing Agency in Houston
When you need online expertise and proven marketing strategies, Bizopia is here for you! We're a leading digital marketing agency and can provide you with the solutions you need. We combine advanced digital marketing services, website design, technical search engine optimization, paid ads, and social media to provide you with a powerful online presence sure to attract customers and revenue. Your goals are our driving purpose and we're here to help you achieve and exceed them. Get started now by filling out our free, no obligation website and marketing analysis or give us a call at (832) 327-3230 to learn more!